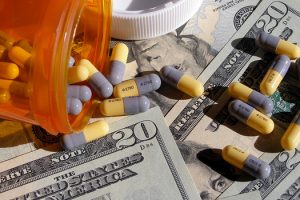 When we moved to Grants Pass two years ago, I learned firsthand what it's like to pay the full list price of my prescriptions. In the process of our move, a clerical error was made and I found myself without insurance coverage. When I went to the pharmacy to pick up the medications I need to treat my diabetes and high blood pressure, I was shocked. The cost was over $300 for a 30-day supply. I couldn't afford it. 
My husband is also a Type 2 diabetic. Even with insurance, we often end up splitting the medication we both take to try to save on the cost. I know this isn't good for us, but what are we supposed to do? We're doing whatever we can to get by.  
Over the years, we've watched as Big Pharma executives jack the prices up to the sky. To me, what a medication costs should be a moral question, not a business one. It is simply devastating what these drug manufacturers are doing to people like us, who don't have a choice. We buy our prescriptions, or we die.  
We live in fear of what could happen to us if we are without insurance coverage again, or what could happen if some CEO decides he wants to buy the patent to Metformin and raise the price to 50x what it is now.  
So many of us are worrying every day how we will pay for the medications we need, pay for rent, pay for utility bills, etc. It's very scary to be in this boat, especially in Southern Oregon, where we don't have access to the supports people have in bigger cities. If the maker of our prescriptions suddenly decides they want a new car or a luxury yacht, we could be homeless, or lose our car trying to afford the medication we need to live. 
I'm calling on my State Representatives, Sen. Herman Baertschiger and Rep. Carl Wilson, to do something about this in 2020. We've suffered for too long in a system monopolized by those without morals. Please act to lower prescription drug prices.