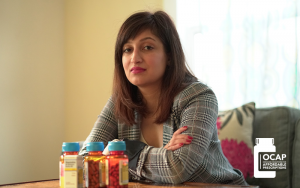 HB 2689, SB 409, and HB 2658 are moving forward in the Legislature
SALEM – After receiving thousands of emails and phone calls, and hearing public testimony from Oregonians from across the state, lawmakers are moving forward with three bills to lower prescription drug prices.
HB 2689 and SB 409 will make lower-price, same-quality drugs from Canada available to Oregon consumers. Both bills are chief co-sponsored by Rep. Rob Nosse (D-Portland), Sen. Dennis Linthicum (R-Klamath Falls), and Sen. Elizabeth Steiner Hayward (D-Beaverton), joined by a large group of bipartisan co-sponsors. HB 2658, chief sponsored by House Health Care Committee Chair Rep. Andrea Salinas (D-Lake Oswego), requires pharmaceutical companies to give at least 60-day advance notice of any intent to raise prices beyond a certain threshold.
SB 409 was approved by a 4-0 vote by the Senate Health Care Committee on April 8. HB 2689 was approved by a 7-4 vote by the House Health Care Committee late last week. Both bills were referred to the Joint Ways and Means Committee for further action.
HB 2658 was approved by the House Health Care Committee by a bipartisan 9-2 vote on April 9 and will be voted on by the full Oregon House of Representatives next week.
"This is an big win for Oregonians," says Mark Griffith, President of the Oregon Coalition for Affordable Prescriptions (OCAP), the advocacy organization that has championed the bills. "Lawmakers are listening to their constituents and the message is clear: Oregonians can't withstand any more pharmaceutical industry price-gouging."
Rep. Rob Nosse (D-Portland) was pleased to see all three bills moving forward.
"We started this work in 2018 with HB 4005, the Prescription Drug Pricing Transparency Act. It has become even clearer that Oregonians need immediate relief as well as long-term solutions. I'm proud to stand with the majority of my fellow committee members in working to make importation of lower-cost prescriptions from Canada and 60-day advance notice of price increases a reality this year."
Myra Haq from NE Portland was one of many Oregonians from across the state who testified in support of the bills. Haq shared the prices she pays for the medication necessary to treat her Crohn's disease symptoms at a public hearing for the bills on February 19.
"Humira is the main prescription used to treat Crohn's. AbbVie, the maker of Humira, has made $12.6 billion in profit on this drug alone," Haq stated. "When pharmaceutical companies look at me, all they see is the money they can make. I should not have to live like this at 31-years-old."
Haq shared that the year she was able to afford Humira injections, her medical costs exceeded $300,000 before insurance.
"I'm so happy to see that my representatives are listening," Haq shared in response to the bills being approved to move forward. "My prescriptions cost a fraction of the cost in Canada, and having 60-day advance notice of price increases will help me plan to find lower-cost alternatives or figure out a way to shoulder the increase. These three bills will make my prescriptions actually affordable for the first time in my life, enabling me to live a little more normally. That would be huge."
Oregon Coalition for Affordable Prescriptions (OCAP) is a nonprofit coalition of over 20 partner groups working to lower prescription drug prices. To get involved, visit affordablerxnow.org.
###